During the morning portion of the session Brendalynn Ens (Director, Knowledge Mobilization and Liaison Program at Canadian Agency for Drugs and Technologies in Health [CADTH]) lead 11 librarians and library technicians through the critical appraisal process of medical literature, including randomized controlled trials, systematic reviews, and practice guidelines. Thousands of critical appraisal tools (CATs) are available, but all are based on three basic questions: "Can I believe the results?"; "What are the results?"; and "Will the results help me in my decision making?" CADTH has created a set of four (non-validated) CATs available for use (Registered Controlled Trials, Systematic Reviews, Clinical Practical Guidelines, and Qualitative Research), which they distributed to the attendees. Brendalynn spoke in depth specifically about bias in Clinical Practice Guidelines (CPGs), which includes five different types of bias associated with CPGs: financial, publication, conflict of interest, expert influence, and external commercial bias. She also shared her five-minute shortcut to critical appraisal of a CPG.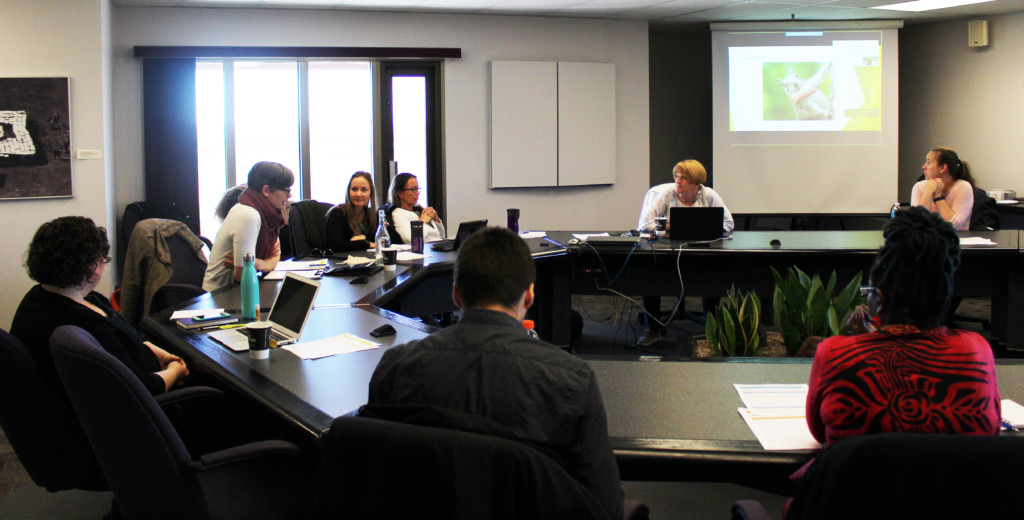 The afternoon portion of the meeting began with Valerie Moore, who provided the attendees with a tour of the new SHIRP website at their new URL: www.shirp.usask.ca
SHIRP's new logo is featured on their website, along with a new "Quick Links" section, and the new LibGuides. In the last three months the website has seen 19255 visits, with the Pharmacist and Physician pages seeing the top hits. Drug databases are the most popular. There has been a lot of anecdotal positive feedback on the newly designed website.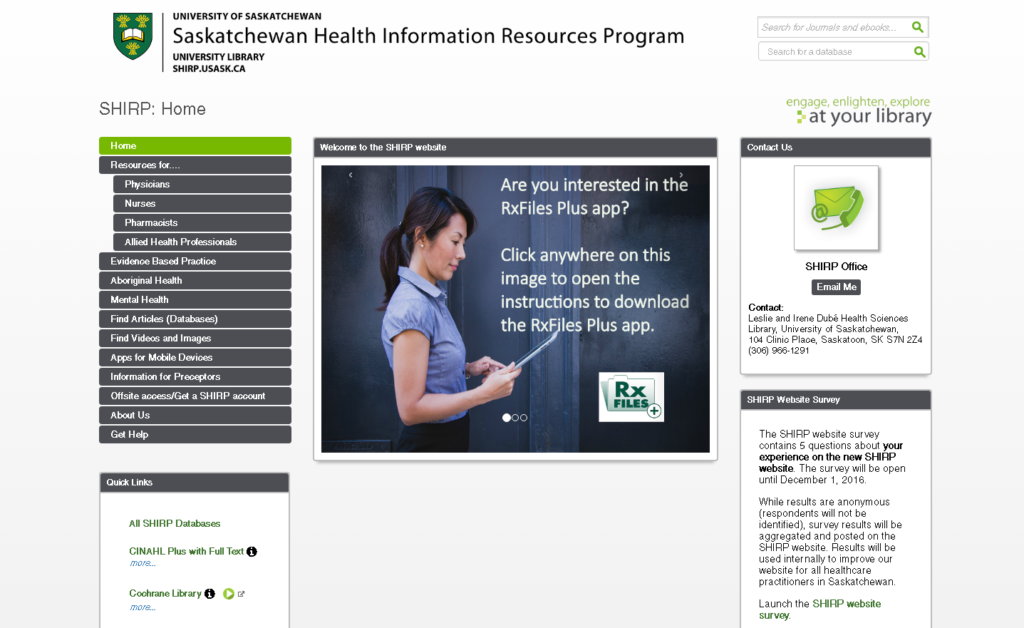 The afternoon continued with a pre-recorded video presentation from Catherine Boden entitled "Learning Needs Across the Continuum from Beginner to Expert: A Survey of Health Sciences Librarians Working in Canada and the U.S." Catherine provided the group with some background on a project, which is a partnership between the University of Saskatchewan and the Saskatchewan Centre for Patient-Orientated Research (SCPOR), to develop, deliver and evaluate a series of online modules aimed at building skills in literature/information searching, and reviewing and synthesizing methodologies to support evidence-based practice for healthcare professionals across the province; and, to coordinate and present workshops on systematic reviews and meta-analysis across the province, delivered by nationally recognized experts. As background piece to this project, Catherine undertook an assessment on the learning needs of librarians supporting systematic reviews using a questionnaire, which was distributed to health sciences librarian working in North America. The results of the questionnaire were shared, which included questions on demographics, systematic review experience, "design your own Continuing Education," and facilitators and challenges.
The day ended with the SHLA general meeting, which included reports from the executive, and a discussion led by Susan Murphy based on questions from Catherine Boden about training around systematic reviews.